Education Programs
Since our early years as this community's safe haven for stray and unwanted animals, PHS/SPCA has emphasized education. In fact, we were among the first humane societies, nationwide, to establish a humane education program and hire staff specifically for this vital work. While our Humane Education Department directs and delivers a range of programs, we consider employees from all departments – adoption counselors, officers, behaviorists and veterinarians – to be educators. Please take a minute to learn about our offerings.
To sign up or request more information about any of the following programs, please contact the Humane Education Department:
Kylynn Pelkey, Humane Educator
650-340-7022 ext. 369 or kpelkey@phs-spca.org
Tanya Nori, Humane Education Coordinator
650-340-7022 ext. 308 or tnori@phs-spca.org
Camps
Animal Camp
Our summer camp is an intensive learning experience for 8-13 year-olds. We emphasize responsible pet care and foster children's understanding and concern for all species. Guest speakers bring a variety of pets for the campers to meet. Besides meeting different pets, camp activities include visiting our Wildlife Center, practicing dog training, playing pet-related games, and learning about current animal-welfare issues. We will be offering five sessions of camp for two different age groups:
Please check back for 2018 camp dates.
Camp runs from 9:00am-2:30pm.
Enrollment is limited to first-time participants. There is a $350 camp fee. Applications will be made available March 1st. To complete and submit an application, please click here: www.phs-spca.org/animalcamp.
Pet Camp
A winter day camp for 9-12 year-olds interested in learning about pet care and exploring ways to be kind to companion animals. Campers meet a few animal guests, tour the adoption center and make enrichment toys for shelter animals. This single day program is offered twice during school break. Enrollment is limited and there is a $75 fee. To complete and submit an application, please click here: www.phs-spca.org/petcamp.
Classroom Presentations
PHS/SPCA will send a humane educator to schools within San Mateo County for a grade-appropriate talk. Presentations focus either on the basic needs of companion animals or on local wildlife. There is a suggested donation of $20. Companion animal speakers bring a well-behaved dog along. Classroom presentations must be arranged in advance, and teachers are provided with supplemental activity sheets for their students.
Humane Helpers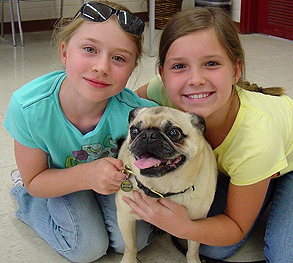 This afterschool program for 8-12 year-olds is held every Tuesday, from 4:00-5:00pm, October-May. Students will gain hands-on experience in the shelter environment, participate in animal welfare discussions and learn about different animals and their care. The group completes a variety of different service projects and each participant will gain 30 minutes of community service per session. There is a $10 fee per 1 hour session. All program materials are included. Advanced registration is required. To sign your child up for Humane Helpers, please register here.
Humane Officer Program
This experience is specially designed for high school students who want to explore a career in Animal Rescue & Control. Participants have the chance to learn how officers assist both animals and people; find out what skills are essential in this line of work; check out equipment used on the job and hear about actual rescues in our community; get a sense of how evidence is collected for humane investigations; and discover ways teens can help animals too! Space is limited and students must sign up in advance. No charge, however a $15 donation is suggested. A session is offered in May and in October.
PEP Talks
PEP Talks (Pet Education Program) are adult and family education programs scheduled several times a year. These vary from informative lectures to hands-on classes to drop-in learning events. Upcoming events are featured on our website.
Scout Compassion Program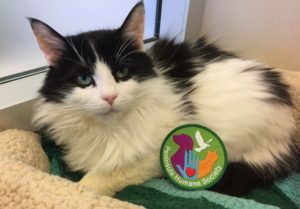 The Scout Compassion Program is designed to offer Girl and Boy Scout Troops the opportunity to benefit the lives of animals by becoming involved in our shelter. This program lasts one and a half hours and takes place at our Lantos Center for Compassion. Troops that participate in the Scout Compassion Program will partake in a shelter tour, create enrichment items for shelter animals, and meet a friendly pet. After completing the program, each troop member will receive a Compassion Patch to represent their hard work and kindness to animals. There is a $5 fee per scout that attends. Is your troop interested in the Scout Compassion Program? Click here to submit a troop inquiry form and begin the scheduling process.
Shelter Tales
Shelter Tales offers children ages 8-12 the opportunity to earn community service hours by reading to shelter dogs at our Lantos Center for Compassion. This enriching opportunity for both youth and adoptable dogs is aimed at boosting humane education, improving reading skills, and soothing dogs in the presence of children. The program is held on the third Saturday of every month from 9:30-11am. There is a $10 dollar fee per session and reading books are included. To sign your child up for Shelter Tales, please register here.
Shelter Tours
The Humane Education Department offers tours of the Burlingame center for groups who are interested in learning about our work with animals. Up to 24 people at a time (including adults for children's groups) can be accommodated. The tour guide starts with a discussion about our services, the different kinds of animals received, and ways people can help them. A walk-through includes seeing the dogs, cats, small and exotic animals up for adoption that day. We ask for $1 per tour participant. Tours last approximately one hour and are conducted on weekdays between 10:30am and 5:00pm by appointment only.
Vet Shadow Program
Through this two-hour program, high school students can get an inside look at veterinary medicine in a shelter setting. Participants have the opportunity to hear about the background and experiences of a shelter veterinarian; observe spay/neuter surgeries in progress; take a brief tour of the In-House Clinic and x-ray room; ask the vet questions and find out what kinds of medical conditions we commonly treat. Space is very limited and there is a $20 program fee. Two sessions are offered in June and in December. To sign up for Vet Shadow, please register here.
Parties with a Purpose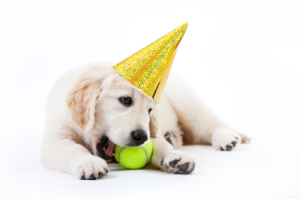 Celebrate your child's birthday at our Center for Compassion! We host parties for 7-12 year-olds on select Sunday afternoons from 2pm to 4pm. Guests will learn about the animals available for adoption, get a behind-the-scenes shelter tour, and have a meet and greet with a friendly pet! Parties are currently booking up to four months in advance. Parents can choose from two different party packages listed below. To request a party at our facility, please fill out an inquiry form here.
Party Option

The Cat's
Meow Party
$250


Party Length: 2 hours

The Big
Dog Party
$525


Party Length: 2 hours

Shelter Tour

X

X

Pet Meet & Greet

1 pet

2 pets

Shelter Enrichment Activity

X

Plush pet party favors for child guests

X

X

Birthday child can invite up to 10 guests (including siblings) and 8 adults

X

Birthday child can invite up to 15 guests (including siblings) and 8 adults

X

Pizza, beverages and ice cream cupcakes for all guests

X

Table covers, placemats and decorations

X

Table covers, placements, decorations and tableware

X

Custom invitations provided

X

Photo Station

X

Set-up and clean-up taken care of!

X

X
For Kids
Students of all ages can learn more about helping animals by reading our Caring for Critters pamphlet. It includes suggestions for fundraising and collecting items to benefit the shelter animals too. Just click on the link to download a copy.
Lucky Me is a charming guide to animal companionship and safety for young children. And the author, Christi Drue Dunlap, is one of our Humane Education volunteers!