Corporate Promotions
Please consider supporting these businesses which have ongoing promotions that directly help our animals.

Make your regular or special online purchases through GoodShop.com to raise funds for PHS/SPCA! Simply select us as your charity, then use one of the hundreds of listed online stores. Choices include Target, Barnes & Noble, Apple Store, Bloomingdales, Office Depot, PetSmart, and many more! You receive the same deals, while we receive a percentage for the animals!

Would you like a poster-sized photo of your pet displayed in a local pet store? When you make a donation of $250 or $500 or more to PHS/SPCA, you qualify for Pet Food Express' My Mutt program. Visit the My Mutt website for more information.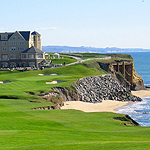 In addition to being a pet-friendly resort, the Ritz-Carlton, Half Moon Bay has a Posh Pooch Program with special amenities for dogs! They believe four-legged friends should enjoy the same outstanding luxury as their families, and are confident that your best friend's reviews will be paw-sitively glowing! For every person who takes advantage of this program, a donation will be made to our Hope Program. Click here for more information about bringing your pampered pooch along.